NATURAL MINERAL SPECIMEN ON STERLING SILVER COLLECTION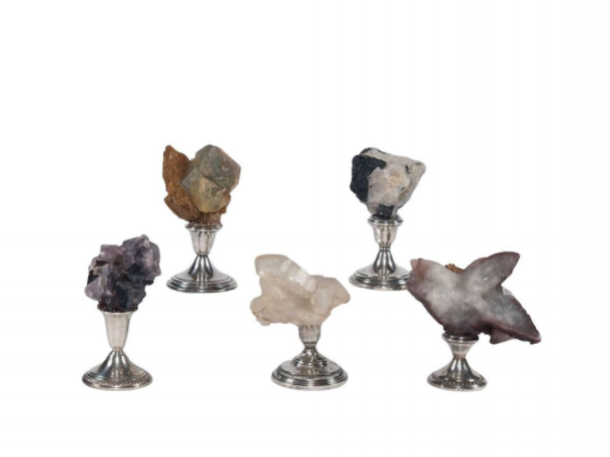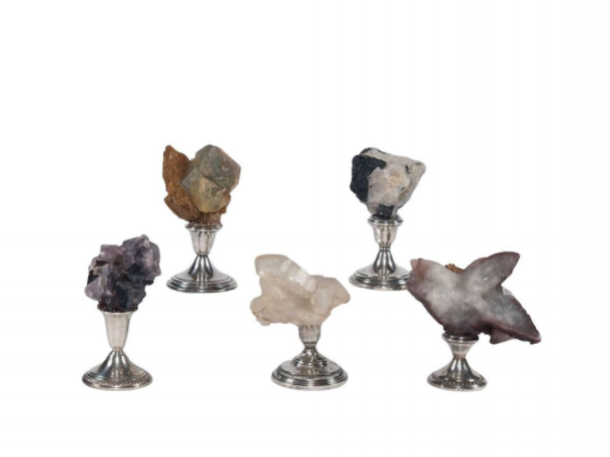 NATURAL MINERAL SPECIMEN ON STERLING SILVER COLLECTION
A handsome display of earth's most breathtaking examples of natural history that have formed over the past 450 million years. Five natural mineral specimens collected from around the world are mounted on vintage sterling bases.
A wonderful set to add to or begin a collection.
I) Scalenohedral calcite specimen from Kelso Washington. 8 inches wide x 7.25 inches high x 2.75 inches deep
II) Green fluorite on barite from Madoc, Ontario, Canada. 4.5 inches wide x 7.5 inches high x 4.25 inches deep
III) Quartz Cluster from Arkansas. 5.75 inches wide x 6.75 inches high x 3.5 inches deep
IV) Black Tourmaline in Quartz from Malacacheta Mine Gerais Brazil. 5 inches wide x 7.5 inches high x 4 inches deep
V) Galena and purple fluorite from Weardale County, Durham England. 4.25 inches wide x 8 inches high x 3 inches deep.